The JJ Mack Building, London
The JJ Mack Building is a 200,000sq ft development and provides ten floors of smart-enabled office space, with terraces on three levels and retail units on the ground floor.
L&P Sustainability's role was to define the sustainability strategy from Planning Stage and delivering an A rated EPC building. The team worked collaboratively with the architects, engineers, and relevant experts to ensure a holistic approach and integration of the client's sustainability targets.
Additionally, L&P Sustainability updated the environmental certification from BREEAM 2011 to BREEAM 2014, then BREEAM 2018 to align with project timeframes and corporate client targets and delivering the BREEAM AP credentials and WELL-enabled. The team delivered the UK's first Design Stage BREEAM 2018 NC Outstanding rating and worked closely with the contractor and sub-contractors to screen the site-based and procurement KPIs. The team also collated information to appraise the embodied carbon for the building, specifically Stages A1 to A5.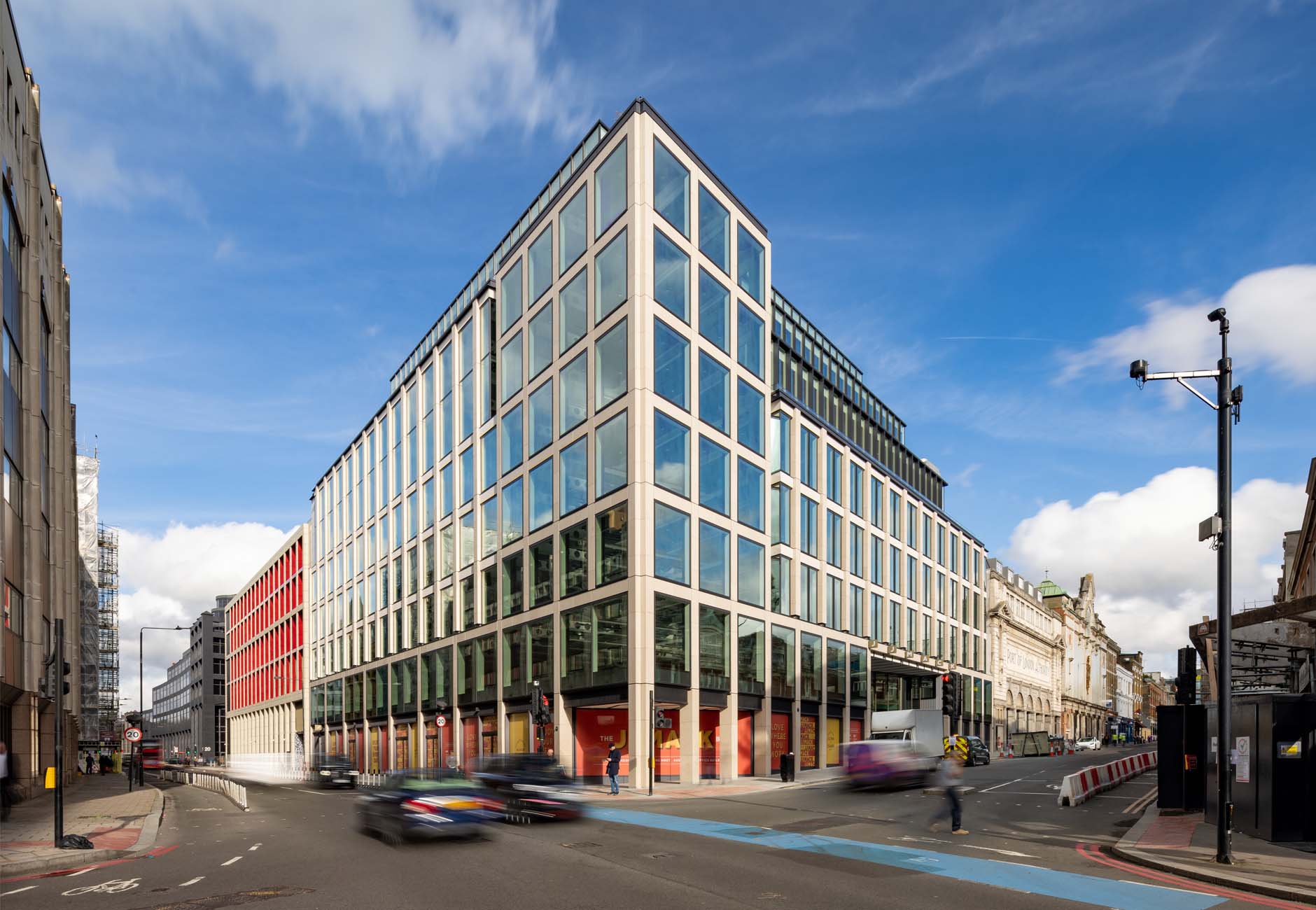 Date Completed
October 2022
Project Value
Confidential
Design Team
Architect - Lifschutz Davidson Sandilands
Engineer - L&P Group
Contractor - Helical
Services
Engineering
Sustainability
Technology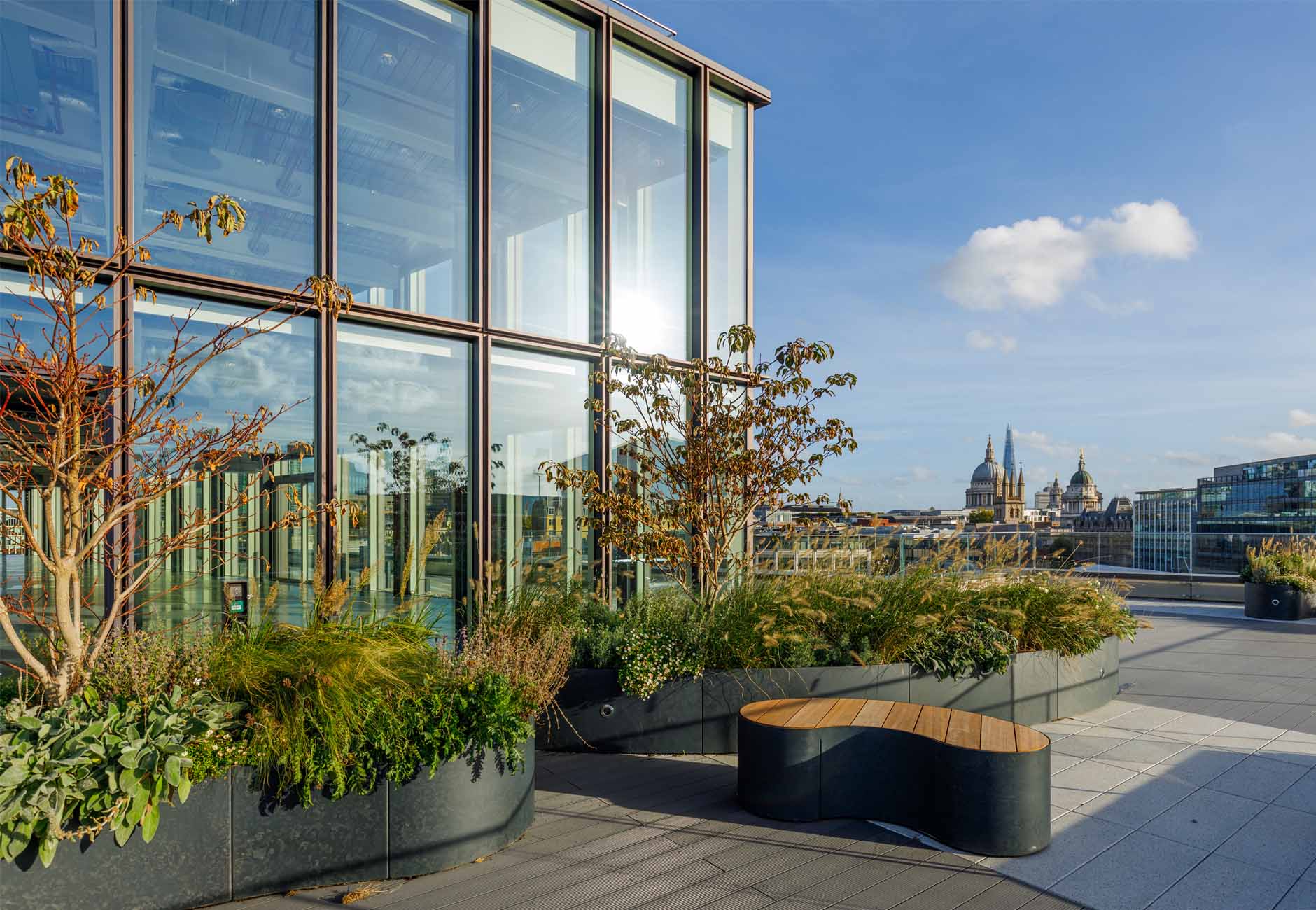 L&P Engineering were involved throughout the complete lifecycle of the JJ Mack Building, developing the design from conception through to construction. The Engineering team were responsible for producing a sustainable, efficient building services design, promoting a circular economy strategy as a core fundamental.
Unique design opportunities were utilised, such as using the E.ON Citigen District Network System for the building Heating, Cooling and Electricity which substantially reduced the amount of major plant infrastructure and associated.
In the wake of COVID and flexible working, the mechanical fresh air system was enhanced to a Variable-Air-Volume system, which adjusts the amount of fresh air brought into each floor based on the Indoor Air Quality (Carbon Dioxide and Volatile Organic Compounds). Allowing for a more efficient and wellness-focused design.
A Smart Greywater Recycling and Rainwater Harvesting system has been provided for the collection of Greywater and Rainwater, with integration to the local weather forecast to maximise tank storage balance. Various sensors across the building have been installed, providing a whole array of data such as occupancy numbers, air quality, temperature and more, which are to be used both for control and integration into the JJ Mack Building Smart App.
A fully dynamic BMS and EMS infrastructure has been provided, enabling enhanced data analysis to facilitate building operational management. An N+N Electrical Infrastructure has also been provided to operate the building with maximum resilience.
The MEP services were designed to accommodate for maximum tenant flexibility (throughout the building but also on a floor-by-floor basis). This was carried through to accommodating for future tenant services at base build such as server rooms, tea-points and a kitchen.
L&P Technology provided ICT Consultancy and MSI services, designing and managing the smart network installation, and coordinated all the technologies in delivering the smart platform.
The JJ Mack Building is packed with smart and intelligent building features to improve the day-to-day wellbeing of its occupiers and to enable truly sustainable operation and occupation.
The roof is home to 885 square metres of biodiverse green roof, pre-planted with a variety of native wildflowers, grasses, herbaceous perennials, bulbs, and sedums as well as housing bug hotels, bird and bat roosting spaces to help support local species. As part of the building's genuine commitment to biodiversity and local ecology there are two bee colonies located on the roof.
We're open and honest with our client and stakeholders at all times - it's all about transparent delivery.
We listened - and understood from the outset - the requirements for delivery and how to achieve them as a team.
The client, design and commissioning teams worked closely together to deliver the project: true collaboration was needed to get the job done.